How to replace an ink cartridge in a DM100i-200i Franking Machine
3rd October 2018
Use this guide to learn how to replace an ink cartridge in a DM100i-200i franking machine.
The meter display will indicate when the ink supply is low or run out and will show either of the following messages:
Low Ink – you can print approximately 300 more impressions or you can leave the system running for six days without printing. Actual ink usage varies depending on:

How often you print envelope messages
The amount of mail pieces you print
How often you print reports
Ink Out – the ink supply has gone, and the ink cartridge needs replacing immediately. (Read below)
To replace the ink cartridge:
To begin, remove the scale from the top of the machine
Open the cover and the message on the screen will change
Select "Replace Ink Tank" in the menu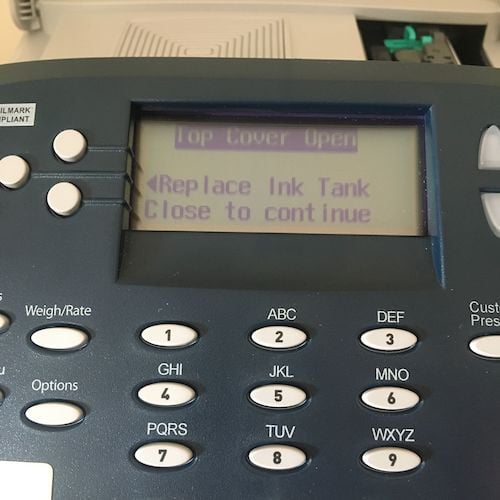 Unlock the green ink cartridge guard
Lift out and remove the empty ink cartridge
Remove the new cartridge from its packaging making sure to remove the silver tape from the bottom of the cartridge
Lower the new cartridge into the cavity. The ridges on either side of the cartridge will slide into the grooves
Rotate the green ink cartridge guard back into place (it will click once in place)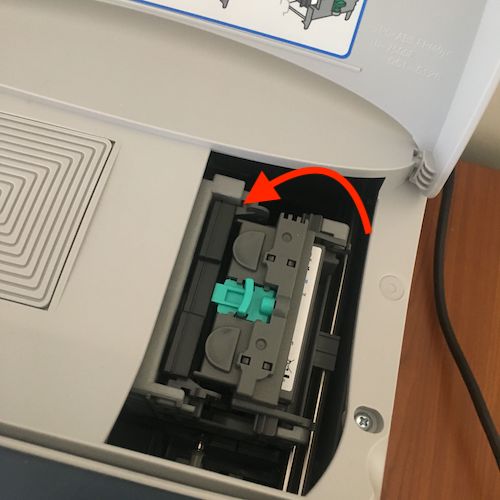 Once the machine has finished installing the replacement ink cartridge it will display the following message (providing you have used an original cartridge) Select continue and you can carry on using your machine as normal
This can be used on the following the machines: AS125, AS145, AS175 and AS235
If you need more help or would like some information on ink cartridges then please call us on 0800 458 2880 or email info@ashcroftmailing.co.uk and we will be able to assist you.